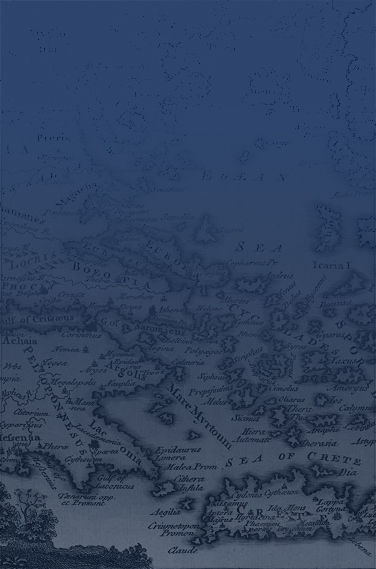 Principal Investigator:: Charalambos Gasparis, Research Director, IHR/NHRF
Collaborator: Marina Koumanoudi, Senior Researcher, IHR/NHRF
Research Assistants: Konstantina Kyriazi (PhD Candidate in Byzantine Archaeology, University of Crete), Sergios Moschonas (PhD Candidate in Medieval History, University of Athens)
The general frame of the project "Prosopography of the Greek-Venetian World" concerns all persons who lived or acted in the Venetian colonies or areas of Venetian control and interest in the wider Aegean Sea immediately after the fall of Constantinople to the Crusaders in 1204, and until the fall of Crete to the Turks in 1669.
The implemented project, in particular, entitled "Prosopography of the Greek-Venetian World: The persons of the thirteenth century", encompasses all persons who lived or acted in the first Venetian colonies, namely Crete, Methoni, Koroni and Kythira, during the 13th century. The data base has been fed with information that has not be limited to simply listing the names of the individuals and their identity, but also with information that has recorded all relations that defined the life of each one, that is his role as it is revealed in every source (event) where the person is identified, as well as all other persons (relatives or not), institutions and places with which these persons were related or come into contact during their lifetime. The website contains all the necessary information that helps to better understand the structure and the methodology of the Database, offering a short description of the historical context and the sources used, as well as glossaries of terms and relations that structure the content of our Prosopographical Data Base.
At the present stage, the Database includes part of the material concerning Crete. Thereafter, at regular intervals, the Database will be updated with new material, until all the areas under consideration are included. The project is funded by the Operational Program "Competitiveness, Entrepreneurship & Innovation" (EPAnEK) of the Partnership Agreement for the Development Framework 2014-2020, co-funded by Greece and the European Union (European Regional Development Fund).
Implementation of the first part of the project: 2018-2020.